Warning: You must be logged in to complete your order!
Orders may be placed by Florida residents only.
If you order helmets you MUST return a Helmet Distribution Sign-In Sheet.
Search
Product Information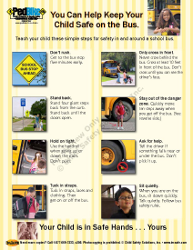 Activity Sheet: You Can Keep Your Child Safe on the Bus (Educational)
Parent Tip Sheet that teaches safety around the school bus.
Price: $0.00
Parent Tip Sheet that teaches safety around the school bus. This sheet has a coloring page on the back. (Educational)