If you order tangible items like helmets, armbands, or bike lights you MUST return signatures.
Search
Product Information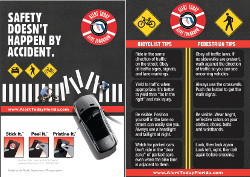 Brochure: ATAT Digiclean
The Digiclean peels off and sticks to your cell phone or tablet. Just take it off and rub the side with the ATAT logo on the screen to clean then stick it to the back of your phone or tablet.
Price: $0.00
This comes on a tip card with safe walking and biking tips. The Digiclean peels off and sticks to your cell phone or tablet. Just take it off and rub the side with the ATAT logo on the screen to clean then stick it to the back of your phone or tablet. It is reusable and easy to clean. Just wash with soap and water. Allow to dry then stick back on your phone to use it over and over. Quantity limit (25)