If you order tangible items like helmets, armbands, or bike lights you MUST return signatures.
Search
Product Information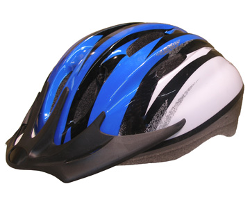 Helmet - Extra Large *Signature Needed*
Extra Large Bike Helmet (color cannot be specified) Requires signature collection
Price: $0.00
Size: 23.33" - 24.8"
Helmets come in a variety of colors and cannot be specified at time of order. Each helmet is individually bagged and comes with a Users Manual that provides Fitting Instructions and Warranty information.
Features
Instant fitting retention dial turn ring for a perfect fit every time
10 vents for maximum cooling comfort
Quick release Nexus Buckle
Shock absorbing black EPS (foam) liner
Aerodynamic plastic microshell
NOTE:
Helmets can only be delivered to commercially manned addresses (no storage units or residences)!
Once your order is shipped, the delivery address cannot be changed. If you do so, you will be charged a change of address shipping fee.
If the shipment is returned because delivery could not be made, it could make you ineligible to place and receive future orders.